The Karn Chapel Organ Restoration (Karn II)

Welcome!
This is my next restoration project, another Karn organ that I bought from a church east of Toronto, in the beautiful town of Cobourg. It was indicated that the organ was never used in the church sanctuary, and it was probably a donation from some time ago. It remained in one of the entrances/lobby areas of the church for anyone to play that wanted to.
When I first saw it, I was surprised at the compact size of the instrument. The feature that had me spend most of the day driving to bring it home was the 2' Harp Aeoline in the bass, since I liked the sound of it from the time I was first introduced to it at the Lee Conklin Reed Organ Museum in Hanover, Michigan.
When I sat down to play it, no matter how fast I ran on the treadles, very little sound would come out. I could hear the hissing of air everywhere, and ciphers sounding on many notes. So I briefly looked it over, making sure all the Sub Bass reeds and Harp Aeoline reeds were in place, and then bought it blindly with the risk that there could be a serious issue with the reed block with the type of ciphers I could hear. There were a few broken stops, but to my delight all of the parts were kept.
The entire organ was dismantled and labeled for the trip back home. Over the next week, I made some permanent and temporary repairs to the organ to make it more playable, in case it was not worth ordering the parts. After the organ was put back together, I played it for a few hours and I was very happy with the sound – definitely a keeper. The restoration was completed at the end of July that year.
Restoring and playing a reed organ is a wonderful hobby that can be done by almost anyone. Before you decide to restore that old organ, be sure to research the "do's and don'ts". Follow the links button on this site for more info.
Restoration Pictures
The following chapters of this restoration's picture albums will outline the detail of the many steps it took to restore this instrument, in 374 captioned pictures.

Karn Reed Organ Information
Karn Organ, New Chapel, Style G, Action #15 with finished back.
Serial#: 62472
Manufacture Date: currently unknown, between 1910 - 1913
Contains 5 - 28 reed ranks (Bass), 5 - 33 reed ranks (Treble), 1 - 13 reed sub bass
Total reeds: 318
Originally finished in high gloss medium stained oak, with a large selection of quarter cut timber.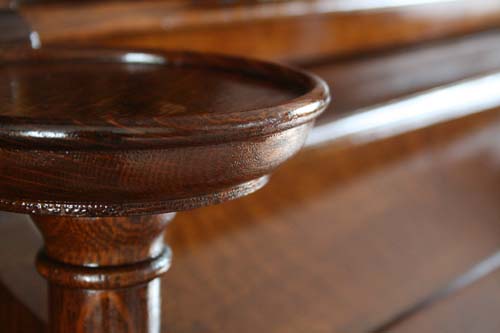 Stop List:
Bass Coupler
Highland Pipe 2Ft
Harp Aeoline 2Ft
Contra Bass 16Ft
Diapason 8Ft
Piano 8Ft
Viola 4Ft
Viol D'Amour 4Ft
Sub Bass 16Ft
Viola Forte (rear swell forte)
Vox Humana (this is not the original stop face, should be Vox Jubilante)
Diapason Forte (front swell forte)
Dulcet 4' (this is not the original stop face, should be Flute 4')
Dolce 8Ft
Principal 8Ft
Violoncello 16Ft
Celeste 8 Ft (this is not the original stop face, should be Vox Angelica 8')
Piccolo 2Ft
Treble Coupler