Biography
Rodney Jantzi first became interested in organs when he was 5 years old, after his parents purchased a small plastic chord organ. Always fascinated by it, he would pick out his favorite songs by ear. At age 8, the family purchased an electronic Yamaha organ, and he began organ lessons immediately, which continued until he was 15. At that time, he entered a classical organ competition hosted by Baldwin Organs and won 1st prize, and then was awarded 3rd prize at the Central Canada semi-finals. It was at that point in time where he was urged to study piano, which he started immediately after the Baldwin competitions were completed. He continued to take piano, theory and harmony instruction for the next 5 years.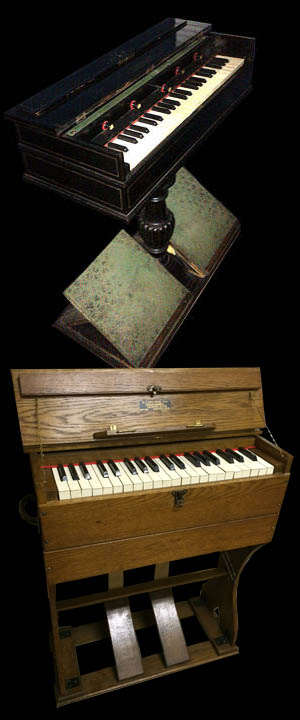 During that time, when he was 17, he accepted the position at Emmanuel Lutheran Church in Petersburg, Ontario as their full time organist, and still holds this position today. Three years later, he accepted another organist position at St. Peter's Lutheran Church in New Hamburg, Ontario, and continued with the dual organist and choir directing duties for the next 13 years. Also during that time, he returned to private organ lessons for 2 more years, receiving instruction from a music professor from the Wilfred Laurier University in Waterloo.
His reed organ interests began in 1994, when he visited Zion Lutheran Church in Northern Ontario, a small rural church where his wife's family lived for many years. This organ did not seem like an ordinary "pump" organ, for it had a Sub Bass stop that was so rich and deep that it was felt as much as it was heard. The organ was in rather poor condition, but it was there that he realized the potential of reed organs, and started to wonder how they would have sounded when new. The other intriguing fact about this organ was that it was made in Berlin, Ontario – Berlin was renamed to Kitchener in 1916, the city where he was born and just a few miles from where he currently lives.
In 2008, the Northern church closed, and the Berlin organ was given to Rodney. He restored the organ over the next 5 months, his first restoration and new hobby. When it was almost complete, he posted a few videos on YouTube, in an attempt to show that reed organs can sound great when they are carefully restored, even when restored by a novice. The YouTube channel featuring the Berlin organ has since become one of the most popular channels for reed organ, with millions of video views to date and growing.
Rodney continues to play pipe organ, piano and reed organ for church and for fun - but the reed organ has become his passion.

He has recorded reed organ sound tracks for the television show "Hell on Wheels" episode 404 and also provided two reed organ soundtracks for the television series "Houdini & Doyle", episode 103 in May 2016. Video samples were provided for the MIM in Arizona USA, and other audio tracks have been used for various plays and history videos. Besides the music, he also is the Web Manager for the Reed Organ Society, an international organization. He also continues to collect and restore reed organs for himself or for museums as volunteer work during his free time after his full time job working with computers.

Although he claims that he is far from having a professional organist status, he loves to share his music. He especially enjoys making these old reed organs look and sound as they did when they were new, hoping to inspire anyone to want or keep that old reed organ.