The Karn "New Cathedral" Restoration (Karn-3)

Welcome!
This is my next restoration project, another Karn organ - the largest reed organ I have worked on to date. It was delivered disassembled, with 3 boxes, a cookie sheet and a cake pan filled with parts, screws, linkages and spare parts.
This is the thrid Karn organ that I have restored, hence the nickname of "Karn3"!
The Story of This Organ
In the early 1960's, Ivan Townsend drove his VW Beatle to a church in the village of Cheltenham, and picked up an old Karn pump organ that was being given away for free to whoever wanted it. It was at this church that he disassembled the organ, and managed to take the entire thing home with him in his car. I have heard of records of how many people can squeeze into a VW Beetle, but this is the first time I heard of how large of a church reed organ could fit in a Beetle…
Once he reassembled it at his house, he enlisted the help of his nephews & nieces to work the "blow lever" (pump handle) while he played, and entertained his family for many years.
When Ivan passed away, the organ was placed in storage in a small barn for a few years.
In 2003, approximately 3 years after his death, Ivan's nephew, contacted the Belfountain Heritage Society to donate his uncle's reed organ to the Melville White Church in Caledon. It was very fitting that the organ should be donated to the church, as Ivan was a school teacher who taught at Rockside School (The school was closed in 1963) which was not far from the Melville White Church, and Ivan is buried at the church cemetery as well. However, the condition of the disassembled organ to make it play again was a rather large road block.
In the summer of 2011, I was contacted by the Belfountain Heritage Society to look at the options for this organ. One option was to restore it. The other option was to purchase one of my restored Karn organs, including a trade of the Karn organ at the church.

The group decided to purchase my restored Karn organ from 2010, and trade with the unrestored organ.
On October 24, 2011, I said good-bye to my first Karn project, and hello to my third Karn organ that I will be restoring, which ended up taking many months to complete.
The next chapter of the story of this organ was that I sold it on September 1, 2014, and it was then transported south of the Canadian border to New York, to be enjoyed by a wonderful family.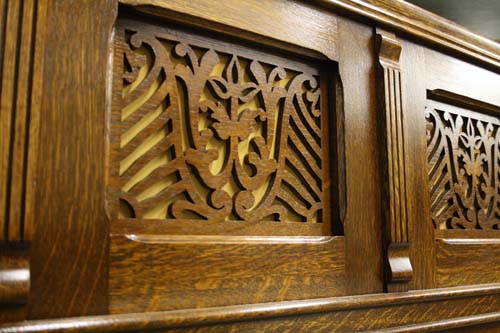 Restoring and playing a reed organ is a wonderful hobby that can be done by almost anyone. Before you decide to restore that old organ, be sure to research the "do's and don'ts". Visit the restoration article on the Reed Organ Society website before you begin, as there is very helpful information there!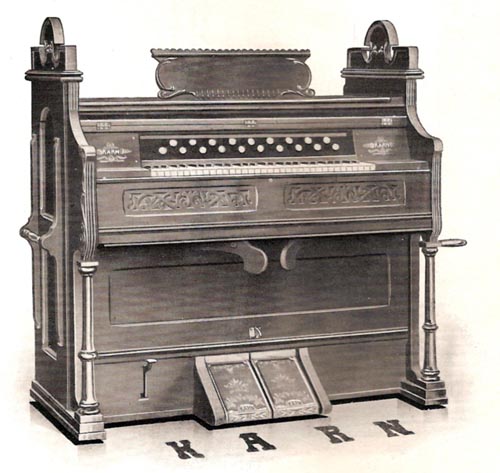 Specifications of This Organ
| | |
| --- | --- |
| Manufacturer: | Karn, Woodstock, Ontario Canada |
| Date of manufacture: | May 2, 1910 |
| Serial Number: | 57621 |
| Type/Style: | Grand Combination Organ "New Cathedral Organ Style M" with action #23 |
| Compass: | 5 octaves F to F |
| Amount of reeds: | 13 sets of reeds with a total of 379 reeds |
| Measurements: | Height - 4 ft 6 in, Depth 2 ft 5 in, Length 4 ft 6 in, Weight (boxed) 460 lbs, Volume 56 Cubic Feet |
The action list is as follows:
Bass Coupler
Highland Pipe 2'
Viola 4'
Viol D'Amour 4' (muted from viola)
Harp Aeoline 2'
Sub Bass 16'
Bourdon Bass 16'
Viol D'Gamba 8'
Diapason 8'
Piano 8' (muted from Diapason)
Forte
Dolce 8' (Muted from Principal)
Principal 8'
Melodia 8'
Violoncello 16'
Vox Jubilante (also known as Vox Humanna)
Vox Angelica 8'
Saraphone 4' (muted from flute)
Flute 4'
Piccolo 2'
Treble Coupler
Restoration took place from October 2011 to April 2012.
Picture Gallery
The following chapters will lead you to the story of this restoration. There are 658 captioned pictures showing many details of what was involved and the approach of each item.