The Restoration of the Dominion Orchestral Organ

Welcome!
This organ has been sitting in my shop patiently waiting to be restored since May 2012. The opportunity arose that I was able to purchase it from a family in Oshawa, Ontario Canada. The organ does "play", but the keys are extremely sloppy and loose, and it requires a lot of wind to bring sound out of it. This will be the largest organ I have restored to date, with 440 reed and 2 manuals.
The morning we picked up the organ, I was a little excited for the opportunity to restore such a fine instrument.
In order to transport it home, it had to be placed on its back . I was worried about damages to the main action so it was removed before the case was loaded. Besides, it was so heavy that we had to lighten it up as much as possible.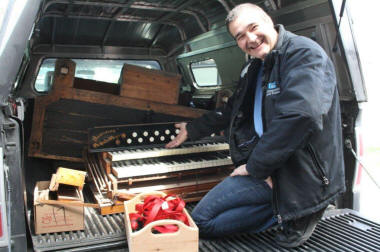 Once all of the parts were loaded in the truck, as you can see in the picture, I was ecstatic, grinning like Cheshire Cat over my new buddy.
Since that May, I have done small jobs to the organ, such as making missing finials from a picture that was emailed to me, I helped fix some ciphers, and repaired/replaced a missing stop knob and several stop faces.
I am not certain of the manufacture date, but it is likely a later model from 1918, as indicated on the keyboard under the stop board. This style of case was available as early as 1891 from the Dominion catalogue.
Throughout this restoration, I will be posting images of the organ as I tackle each section.
When complete, this instrument will hopefully play as good as it did when it left the Dominion Organ and Piano factory so many years ago.
Restoring reed organs is a passion that could be taken up by almost anyone - you would not believe the sounds that these instruments can make once restored.
If you decide you would like to try and restore a reed organ, be sure to learn the "do's and don't" before you start. More information can be found on the Reed Organ Society website on restoring reed organs.
Restoration Pictures
Information
This organ contains 440 reeds, 23 stops and 2 manuals. The stop list is as follows:
Contrabass 16' (Swell)
Fagotte 8' (Swell)
Seraphone 4' (Swell)
Fluglehorn 2' (Swell)
Forte
Vox Humana
Cremona 16' (Swell)
Cello 16' (Swell)
Hautboy 8' (Swell)
Aeoline 8' (Swell)
Piccolo 2' (Swell)
Diapason 8' (Great)
Bassoon 8' (Great)
Viola 4' (Great)
Dulcet 4' (Great)
Sub Bass 16' (Great)
Octave Coupler
Manual Coupler
Flute 4' (Great)
Principal 4' (Great)
Flute d'Amour 8' (Great)
Vox Celeste 8' (Great)
Melodia 8' (Great)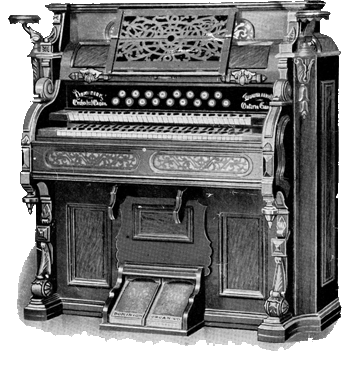 The organ was manufactured in Bowmanvillle, Ontario Canada, with a tuning date on the keyboard of July 18, 1910, serial #56087.
Dominion History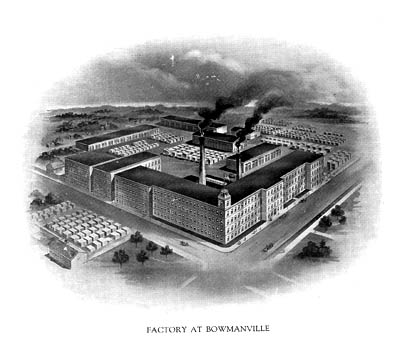 Dominion Organ and Piano Co. Instrument manufacturer. Although the date has not been substantiated, the firm was probably founded in 1870 in Oshawa as (A.M.) Darley and (William) Robinson, later called the Oshawa Organ and Melodeon Manufacturing Co.
The firm relocated in Bowmanville, Ont, in 1873 and was renamed the Dominion Organ Co in 1875. It specialized in cabinet reed organs. These were distinctive for the qualifying tubes, the same ones that were used By Clough and Warren of Detroit.
In 1876 a 19-stop Dominion organ with 12 sets of reeds won an international medal at the Philadelphia Centennial Exhibition. Prizes in Paris, London, and Chicago followed. A piano factory was added in 1879, and two-manual organs for church use were introduced in the 1880s. The exceptional quality of Dominion's square grand and upright pianos made the company second only to Bell as a Canadian instrument producer and exporter.
Before World War I it maintained agencies in Europe, Australia, New Zealand and the West Indies. As a sales promotion the firm published complimentary piano music as well as the Dominion Organ and Piano Company's Modern Method for Reed Organ, possibly the first such work to appear in Canada. After several changes of owner the company was taken over in 1901 by J.W. Alexander. It was an opinion of some that the later models of Dominion organs displayed a declining tonal quality, although Dominion pianos retained their reputation.
Demand decreased during the Depression of the mid-1930s, and even after introducing other lines, including the successful Mitchell phonograph, the firm suffered as a result of competition from radio and a scarcity of capital. The company closed in March 1936.
Author Melva Graham, Florence Hayes - The Canadian Encyclopedia - Edited Rodney Jantzi 2020
Old Advertisements
No images were found.