The Doherty Victorian Restoration Project

The Story of the Organ:
In July 2013, I received a call regarding a collection of reed organs that needed a home. My wife and I decided that it would be interesting to take a look at the collection, which was basically abandoned in the collector's workshop since he grew ill and then passed away in January 2011.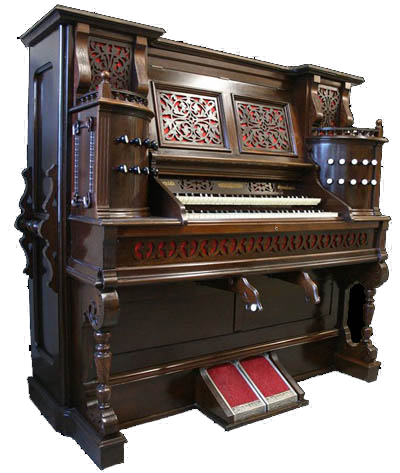 The workshop was an older mobile home, which had deteriorated over the past few seasons. There were water leaks, and it was rampant with rodents.
Inside, there were 6 organs, plus one that was parted out. One of the organs was the John Jackson & Co. that I restored earlier in 2014.
Of the organs that were there, only two were "feasible" to restore, but all suffered extreme environmental damage. All other organs (3 of them were already partially disassembled) were then parted out, so I photographed and registered them with the Reed Organ Society. One of the organs, an 11 stop Doherty C scale was not completely parted out, as there were so many mouse droppings that the reeds could not be seen - that one was left undisturbed and only a few items could be salvaged.
This is the second organ that survived from that collection - it was too difficult for me to destroy it and leave behind. Unfortunately, it was disassembled when the collector needed to move it in, and only a few screws were keeping it together. If I pushed hard enough on the side, the entire organ would have collapsed like a stack of cards. As I moved the organ, glue joints were breaking with the smallest amount of pressure.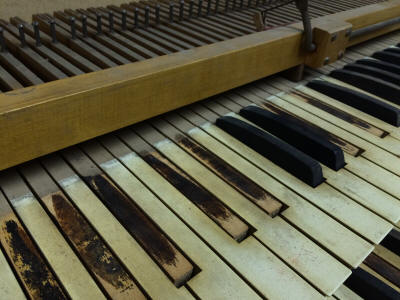 The organ was then taken apart on site, brought back to my house, and stored in my shed in the back yard until the time came to restore it. The second reason to store it away was because the smell the rodents left behind scarred my memory, I had hoped that a year would be enough to air it out. Also, I sprayed it with odor neutralizer, and placed dryer sheets throughout the organ after I cleaned as many dropping out as I could. As it was taken apart, it was apparent that the damp storage over the past few years caused its damage, as even more glue joints were coming apart, veneer falling off and the black sharps on the keyboard would break off with the slightest pressure on them. Other items removed were several mice nests and 2 mouse skeletons.
Seventeen months later, the organ was pulled out of my shed, and ready for the next chapter of its provenance. It still smelled bad, but at least I could work with it.
In June of 2015, after 7 months of very tedious work, this organ had the final touches of its restoration and became a musical instrument once again.
Restoration Pictures:
Click on the pictures below to open the different chapters of this restoration and the story that goes with it. There are 640 pictures in this album.
About the Doherty Piano & Organ Co:
William Doherty, or better known by the people that were around him as just W.D., was born near Bradford Ontario in 1841. Here is an interview by the local news called the New Era, which gives a good idea of attitudes and hardships of starting up a reed organ factory. Here is what William Doherty said: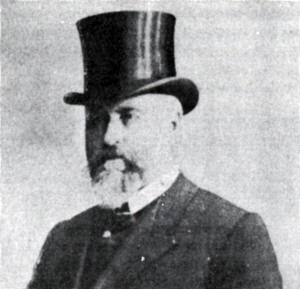 "In the year 1875 I commenced the manufacture of organs with a capital of $5000 and employed one man. In 1876 I built a hand shop and employed 8 men. We rented power and machinery and did the case work in McCartney, Thompson and Scott's planing mill. All of our organs were sold retail as it cost us more to manufacture than we could get them from the trade. At the close of the year we found we had lost $2000 on the year's business. As you imagine, we changed our system of doing business the next year. We now wholesaled our organs, and retained our retail business as well. Our output increased and we thought we were making a little money, but after balancing our books, we found we had lost again, this time $2300. Our capital was pretty well shattered. Nothing daunted and with the proverbial Canadian pluck, we tried it again in 1878. We had at least acquired a knowledge of the requirements of the profession. We now decided to cease retailing and to sell to the trade only, and for cash or on short time, to the best houses… Our principals of business now began to operate successfully, and we came out a little ahead at the close of the year, with business enough to keep a traveler employed."
From the Canadian Encyclopedia:
Doherty was an organ and piano manufacturing firm founded in 1875 in Clinton, Ontario, by William Doherty (b 21 Mar 1841, d Clinton 9 Feb 1924), a furniture dealer and Bell Organ representative. Under the name W. Doherty & Co, he began his business in 1868 above a store on the main street.
In 1875 a large factory was built where 100 reed organs were produced monthly The factory burned down in 1898 and was rebuilt in time to ship organs to the 1898 CNE. Doherty was joined in partnership ca 1880-90 by John Gibbings. Doherty's company made its first pianos in 1907 and was incorporated as the W. Doherty Piano and Organ Co Ltd 4 Dec 1907. The firm produced about 400 organs a month and increased its piano production to 1500 annually during the first 10 years. 'Organ' was dropped from the name in 1913, and production seems to have been curtailed ca 1917.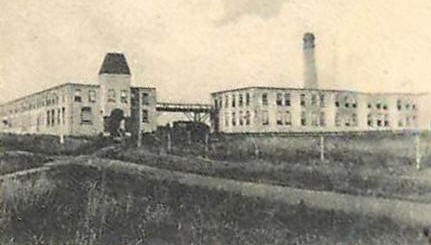 Retail branches were established after about 1908, in Winnipeg, Calgary, Edmonton, and, briefly, Regina. The firm's mainstays were its piano and the Doherty Attachable Player (which converted any style or make of standard piano into a player piano). In 1913 a grand piano was introduced and also a new standard design, the 'Clinton' line. In 1915 the firm advertised that over 70,000 Doherty instruments were in use 'throughout the civilized world' although their export was primarily to England, Scotland, Australia, and New Zealand.
The same year Doherty closed its retail operations, planning to extend its wholesale trade. With Doherty's retirement in 1917, the firm was reorganized as Doherty Pianos Ltd under the control of a group of businessmen, and thenceforth it manufactured player, Doherty, and Clinton pianos, reed organs, benches, and stools.
Bought in 1920 by Sherlock-Manning (Sherlock and Manning were former Doherty employees) it continued to operate under its own name.
Though head offices were moved to London, Ont, factories remained in Clinton and increased their production to 2500 instruments a year. B.J. Gibbings, son of the one-time partner John Gibbings, served as plant superintendent at Clinton. Contrary to figures in the Pierce Piano Atlas, production of Doherty pianos ceased in the early 1930s.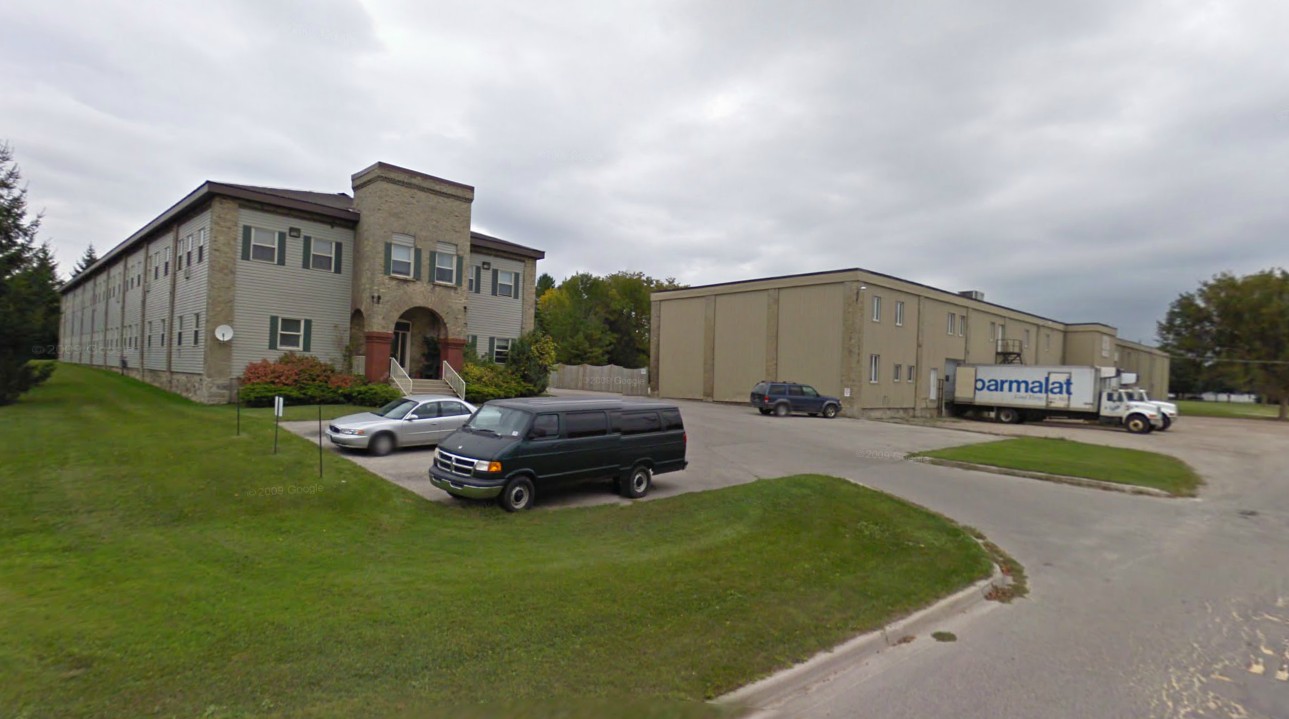 The old Doherty factory today.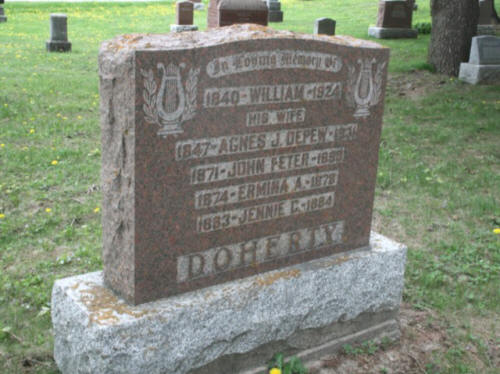 A modest grave stone for one of the most successful organ and piano builders in Canada.