The Restoration of the Berlin Organ
Introduction and Welcome!
There was an old reed "pump" organ in the once bustling church congregation of Zion Lutheran Church, in Wabewawa Ontario. It was used in that church building since it was built in 1912, but for the last 20 – 30 years the church was hardly used anymore, as only one of the ancestors remained in this sparsely populated location in Northern Ontario. The church was officially closed on August 3, 2008.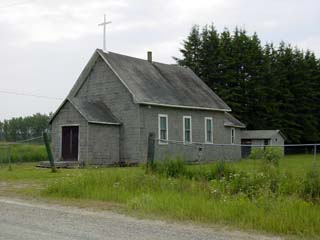 My wife's side of the family is originally from that area, and I had seen the old pump organ there on a visit in 1994, and I immediately became attached to it. It was the first time I ever had the opportunity to play a pump organ.
The valves were sticky, many reeds could only produce a small squeak, but the sound was still magnificent. I had the opportunity to play it again in 2004, for a family reunion church service. It played just like it did 10 years ago, only a lot more notes stuck down after I released the keys. Nevertheless, I made do, learned what to press and what not to press, and many people claimed that they "never knew the organ sounded like that" – a full rich sound with a sub bass that would vibrate the benches (perhaps because the floor was rotting and in poor condition).
It was unique that it was made in Berlin, Ontario, which is basically where I am from, except Berlin was renamed to Kitchener back in 1916. Anything that referred to Germany at that time was not looked highly upon, even though most of the settlers in this area were of German heritage.
I was asked in the summer of 2008 to be the organist for the closing church service, since they said that it seemed that I knew what I was doing. I was happy that my mediocre playing must have left a positive impression after 4 years.
I accepted and that August weekend the family and I made the 8 hour trek from Baden to Kirkland Lake.
My father-in-law and I looked it over on the Saturday before the church service. We pulled out a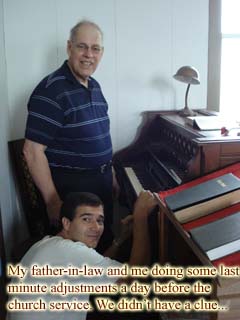 very large mouse nest out of the sub bass, and freed up a lot of movable parts that were glued together with mouse urine and dirt. I'll admit, we did not have a clue to how this thing was supposed to work. It didn't take long to understand that this thing sucks instead of blows, and that it needed a part by part cleaning to have it working the way it was meant to. However, with our tinkering we got it working better than it had for years, regardless of the ciphers and untrustworthy action.
The church service went well, over 120 people came to a church that holds 50. I tried my hardest to make the organ as delicate to full sounding as possible, with all the colours in between. It was too bad that half of the reeds were not sounding.
For the overflow of people that had to sit outside during the church service, many thought it was a pipe organ, others just weren't sure, because the church building had been removed from the electricity grid over 20 years ago. After the church service, people were asking about the organ. The sole member in charge of the church just kept saying it was looked after. I was pleased when I heard this, as I did not want to see the organ degrade any further in the church.
Later that afternoon after a light lunch and visiting, I went back in the church, took some pictures of the organ for the memories, and sat down to play the organ for one last time. As I was playing, the sole remaining member of the church came in, and said to me, "I have thought about this for over a year now, and if you are interested, I would really like it if you would have the organ." It didn't take long to answer yes. I'll admit I was a little nervous in breaking the news to my wonderful wife, but she was more than happy for me!
And that was the beginning of a new found hobby...
More Information about the Berlin Piano and Organ Company
I have been researching this small company for a number of years, and over time small I found pieces of missing information and corrections to what is published in the Canadian Encyclopedia.
Click here for more information
The Berlin Organ Restoration Pictures: